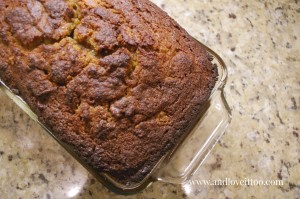 What do you do when the high for the day is a whopping 22 degrees, the roads are covered in ice and you have been told by the local authorities to just stay home?
Why you bake, of course!
As we were getting moving this morning, my husband saw me grabbing the three very ripe bananas we had left in our counter dish…immediately he says "Don't throw those away! Make banana bread!!"
Little did he know that is exactly what I had in mind.
I love that this recipe makes a full loaf.
Most gluten-free recipe's, especially the grain-free kind, call for a smaller loaf pan. Not this one! For this one you want a traditional 9x5x3 loaf.
The bake time was a little long but the end result was a beautiful, golden, sweet loaf of bread.
With our annual cleanse beginning on Monday, I won't be doing a lot of baking over the months ahead.
Even so, this nice warm treat is really the perfect way to begin your new year. High protein, high fiber, no refined sugars.
Go for it!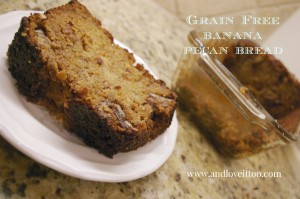 Ingredients
3 very ripe bananas
8 large eggs
1 cup coconut oil, melted
1 cup honey
1 cup coconut flour
1 tsp baking soda
1 tsp cinnamon
½ tsp cardamom
¼ tsp sea salt
1 cup Pecans
Instructions
Preheat oven to 350f. Grease 9x5x3 loaf pan, set aside.
Mix together bananas, eggs, coconut oil and honey. In a separate bowl, mix together coconut flour, baking soda, cinnamon, cardamom and salt. Add dry ingredients to wet ingredients until thoroughly mixed. Fold in pecans.
Fill prepared loaf with mix and bake at 350f for 45-60 minutes or until the center is firm.
Allow to cool 10-15 minutes, slice and serve.
Makes approximately 8-10 servings
Copyright And Love it, Too! May not be published or duplicated without written permission.
As we look forward to the year ahead, I pray that you find joy in the little things, peace in your heart and reasons to smile, every day. Know that you are loved and how much we appreciate you being here with us, every day.
We hope you'll join us on our New Year, New You, Naturally journey starting this Monday, January 5. Find out more about that program here.
As always, enjoy. xoxo