This past Friday, I shared with you my personal reasons for wanting to offer this challenge to you. 
Updated information identifies the drought mentioned in my Friday post as not only the worst drought since the dust bowl, we are now in the driest seven consecutive months since we began recording rainfall back in 1895.  207 of the 254 counties in Texas are currently under very strict burn bans.  Critical weather conditions continue, more than 2 million acres have been burned and it seems there is no relief in sight.
Guestimates regarding the amount of damage suffered throughout Alabama project costs approaching the amount of damage caused by Hurricane Ivan in 2003, the state's most expensive disaster to date.  Damage across the south is estimated to be more than $5 billion dollars.
So much work yet to be done, so much help is desperately needed. 
Here is your opportunity to do something more.
I was fortunate to be included on a fantastic event, hosted by the fabulous Sabrina Modelle over at The Tomato Tart.com.  In this event, bloggers, chefs and foodies from all over the world joined hands to share our talents and raise funds for the earthquake and tsunami victims in Japan.  What Shea and I hope to accomplish here is very similar to what Sabrina invisioned when she created her event. 
To participate, we ask you to do just a few basic things.
1. Pick a dessert/dish/or item you feel will send well for this event.
2. Send us an e-mail about your desire/dish to ICMbakesale at gmail dot com stating:
                a. Your Name
                b. Your blog/website/company and the link where we can find more information on the dessert/dish you are sharing
                c. Detail about your dish (including name)
                d. Where you are from
                e. Where you are willing to ship to
3. Link your post using the linky tool below, and then plug in the html code below to your related post; not only allowing your followers to join in, but ensuring your readers receive instant updates to new offerings for this event as well. 
Deadline for this event/to link in with linky tools is May 20. We will hold our online auction featuring your generous donations May 29th-May 30th.  Details will follow.
Now, on to my offering…
In my previous bakesale experience, I have relied on a winning recipe that goes above and beyond any other chocolate cookie you have tried to this point.  
And while these cookies are absolutely wonderful, there was an offering made by one of my favorite blogs, From the Little Yellow Kitchen, that really got my mind spinning. I must say, these peanut butter cup filled cookies have caused quite the commotion in my gluten-loving foodie friend circle. 
Given that I recently mastered my own Vegan Nutty Butter Cups, I thought…hmmm…I wonder what it would be like to follow The Little Yellow Kitchens masterpiece by using my own award winning cookie cookie dough to make these stuffed chocolate chip cookies?
The result?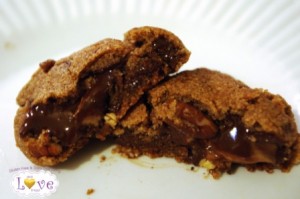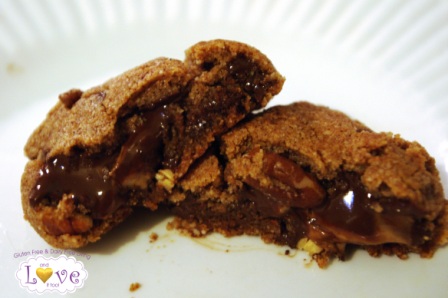 Oooooowey Goooooey Out of This World Deliciousness. 
Truly.
One lucky winner will receive 2 dozen of these beautiful nutty butter candy stuffed chocolate chip cookies.
These cookies are not only gluten free and dairy free, but also grain free, soy free and vegan. 
🙂 I look forward to sharing these with you.
Please do not hesitate to contact Shea or me if you have any questions.
As stated in my previous post, we welcome anyone interested in participating in this event to join us.  You do not have to be a food blogger, although if you know any food bloggers who might like to participate in a bakesale to benefit natural disaster victims, please send them our way. 
We are still looking for corporations willing to sponsor this event or match any part of the money we earn to help disaster victims.
Thanking you in advance,
Please be sure to use the html below to link your post to ours as well as anyone else who joins in.  This tool will allow for instant updates for both you and your readers.