Of all the events I have been honored to participate in since beginning my blog, just 10 months ago, somehow I have consistently missed one: Adopt a Gluten-Free Blogger.  When Wendy from Celiacs in the House announced that she would be hosting this month's event, I was happy to jump on board!
Lucky for me, I actually have the opportunity to review recipes from two of my favorite bloggers this month: Amy from Simply Sugar and Gluten Free on this page, and Stephanie from A Year of Slowcooking on my other site: Ingredient Challenge Monday. 
Interestingly, while these bloggers have many differences in the lives they live and the way they cook, they are both consistent sources of inspiration for me.  🙂 I will save my review of Stephanie O'dea for my other page, which will be available early Sunday; but know that I appreciate her site as much as I do Amy's. 
First, I would like to speak for a moment about how Amy inspires me. 
As she says in her "about" section "Amy is a devoted wife and is passionate about creating healthy meals for her husband and helping others find their way out of an unhealthy lifestyle."  She and I certainly see eye to eye there…
Her about section also describes Amy as a "diet flunkie."
I love this phrase.
Something I do not speak about often is my long-term battle with weight.  While I am more than 100lbs thinner today than I once was; after a solid year on steroids (my Dr's attempt to help expedite the healing process of my gut), I am not as thin as I would like to be. I have had a very difficult time dropping this weight and am at a point of frustration with it.  I too consider myself a 'diet flunkie.'
I have mentioned before that diet is a four letter word I choose not to use in my home.  I am not on a diet, I refuse to be on a diet, rather I am trying to find the lifestyle that will ultimately help me feel complete, inside and out. 
Every day I am getting closer to finding that ultimate balance.  Every day I am finding myself a little closer to finding my happy spot…and, now that I have made a few additional changes to my life (and am no longer on medication), I find myself losing weight, working my way back to that happy spot physically as well as mentally…
If you have been following my site, you may have noticed these slowly but surely changes as they reveal themselves through my recipes…Amy's insight and inspiration are evident in those changes as well.
As Amy puts it "the key to long-term weight loss lies (in) finding your own answers, and what works for your body, mind and spirit."
Amy's devotion to a sugar-free lifestyle is part of what makes her one of my most referred-to bloggers. 
I mean, anyone who can make a lineup that includes truffles, granola and carrot cake bites, all without a bit of sugar or gluten; well that person certainly deserves a bit of attention, right?? 
🙂 Here is my chance to share my appreciation.
With so many recipes to select from, you might be surprised to learn which two recipes I chose to review.
First, ketchup.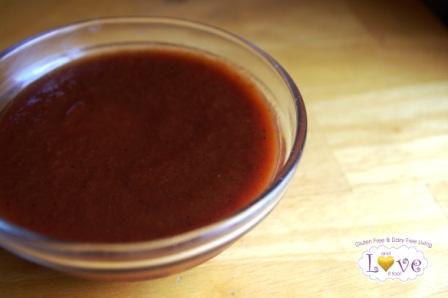 Yes, ketchup.
When making the decision to remove refined sugars from my home, I had to become extremely diligent about reading my labels.
I mean…I already have to inspect every label for milk, gluten, potentially hidden sources of milk or gluten, barley, malt, rye, natural ingredients, etc…so.much.to.look.for.  Label reading is exhausting. Why would I punish myself by adding to that???
Why?  Because I love my family, that is why.
When teaching cooking classes at a local community college this summer, I became determined to introduce everyday items to my students that can easily be made at home in ways that are far healthier than what you can purchase at the store.  In this, I became aware of several things that, for whatever reason, had remained unknown to me up to that point. 
Of all the things I learned, the amount of sugar in the typical bottle of ketchup frightened me.  Forget HFCS, heavens knows there is too much of that floating around…did you know the average bottle of non-HFCS ketchup contains 30% or more pure sugar?
30%!
Yikes.
I was pleasantly surprised to see that Amy had her own recipe for Homemade CrockPot Ketchup and immediately set out to make her recipe.
At first glance, I was surprised at the number of spices in this recipe.  The fragrance of this ketchup cooking in my home was a truly pleasant experience, making this recipe one worth repeating for that reason alone. 
I did change out the suggested Organic Brown Rice Syrup for Agave Nectar, simply because that is what I have on hand.  Otherwise, I kept true to Amy's recipe and was very pleased with the end result. 
I look forward to applying Amy's spices and strategy when my tomatoes finally ripen and I am able to preserve my own organic ketchup this year.
Shortly before I signed up to adopt Amy's blog, she posted a beautiful recipe for a Strawberry Coconut "Milkshake" which caught my attention.  This beautiful green concoction seemed like the perfect balance of nutrition and dessert…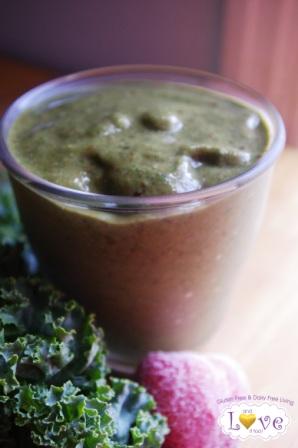 Okay, so it is heavy on the nutrition, but let me tell you—your taste buds will have no idea. 
In the last week alone, I have made this 'milkshake' at least 4 times.  A great way to use the beautiful organic kale my garden has produced this year, this green machine has won my heart.
Thank you Wendy, for hosting this event, Seamaiden for creating this event, and Amy for having such a beautifully easy to navigate blog with so ideas and areas of inspiration.
Keep your eyes open for the Ingredient Challenge Monday Adopt a Gluten-Free Blogger review of A Year of Slowcooking, which should be up early Sunday morning. 
In addition to this review on Sunday, Shea and I will have a very special announcement with an amazing opportunity for you!!
Again, keep your eyes on Ingredient Challenge Monday for more information!
Enjoy your Saturday.
xo,
SunnyB