One of the most difficult things to do when feeding a large family a nutrient-dense diet is to maintain and keep a tight budget.
There are many tricks that I use to do this; we source from local farms as often as possible; often through local Farmer's Markets but also by going to their farms, in person. Befriending our local ranchers and farmers has saved us a fortune in food expenses and helped my children grasp a better understanding about how food is grown and where it comes from.
Besides, farmers and ranchers are some of the most interesting people around. Always willing to share their knowledge, you won't regret getting to know the people who grow your food locally.
We also participate in programs like Bountiful Baskets, which I have blogged about several times.
While Bountiful Baskets is available in many places, I do recognize that it is not readily available everywhere…so be sure to check out any local CSA groups that might be available to you. CSA's are a win-win as they support local farmers, help you save some money and encourage volunteerism all in one swoop.
Finally, in order to maintain our tight food budget, I buy meat in bulk as often as possible.
One of my favorite cuts to purchase?
Pork Shoulder Butt Roast.
We purchase these at in 10 and 20 pound packages. When I purchase over 10 pounds, I will divide them in half and put one in the freezer, one in the crockpot. I let it cook for 24 hours and then we have tender, juicy, flavorful meat that will last us for the next 3-4 days.
Doing this twice a month has not only saved us money, it has saved me lots of time.
Just minutes to put together, I believe this 3-ingredient crockpot pulled pork is bound to become a favorite in your home as well.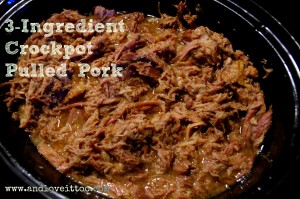 3-ingredient Crockpot Pulled Pork
Ingredients
1- 10 lb butt roast
10 cloves garlic, minced
1 TBS Sea or Pink Himalayan Salt
Instructions
Slather butt roast evenly in minced garlic and salt, rubbing the roast to ensure deep flavor. Turn roast so that the fat of the roast is on the top, facing down and place in 6-7qt crockpot and turn to low. Allow to cook for at least 24 hours, until meat pulls apart easily. Use two forks to separate meat and serve as desired.
Delicious over sweet potatoes, when paired with pineapple salsa, or even on the side of some roasted kale.
Makes approximately 20-25 servings.
Copyright And Love it, Too! May not be published or duplicated without written permission.
Also linked to: Gluten-Free Wednesdays, Allergy Free Wednesday